En colaboración con Pedro Terán Genz de Hanansoft, hemos lanzado un nuevo diccionario electrónico llamado NuSimi, para consultar diccionarios de lenguas originarias en aparatos móviles de Android. NuSimi es la nueva versión de SimiDic, que fue la app original que lanzamos en el año 2012. Hemos reprogramado NuSimi en Kotlin y hemos mejorado su buscador para buscar en toda la palabra, que es muy importante para lenguas como guaraní y mojeño que tiene sus raíces en el medio de palabras.
NuSimi incluye una nueva interfaz, que puede ser traducida a otras lenguas. Ya hemos traducido la interfaz de NuSimi al aymara y quechua boliviano, pero queremos ofrecer NuSimi en más lenguas y dialectos, porque es muy importante que el software funcione en las demas lenguas originarias para demostrar que estas lenguas sean útiles en la tecnología moderna y cambiar percepciones negativas como que estas lenguas no tienen futuro y no sirven.
NuSimi con su interfaz en quechua boliviano, aymara, castellano, inglés y portugués: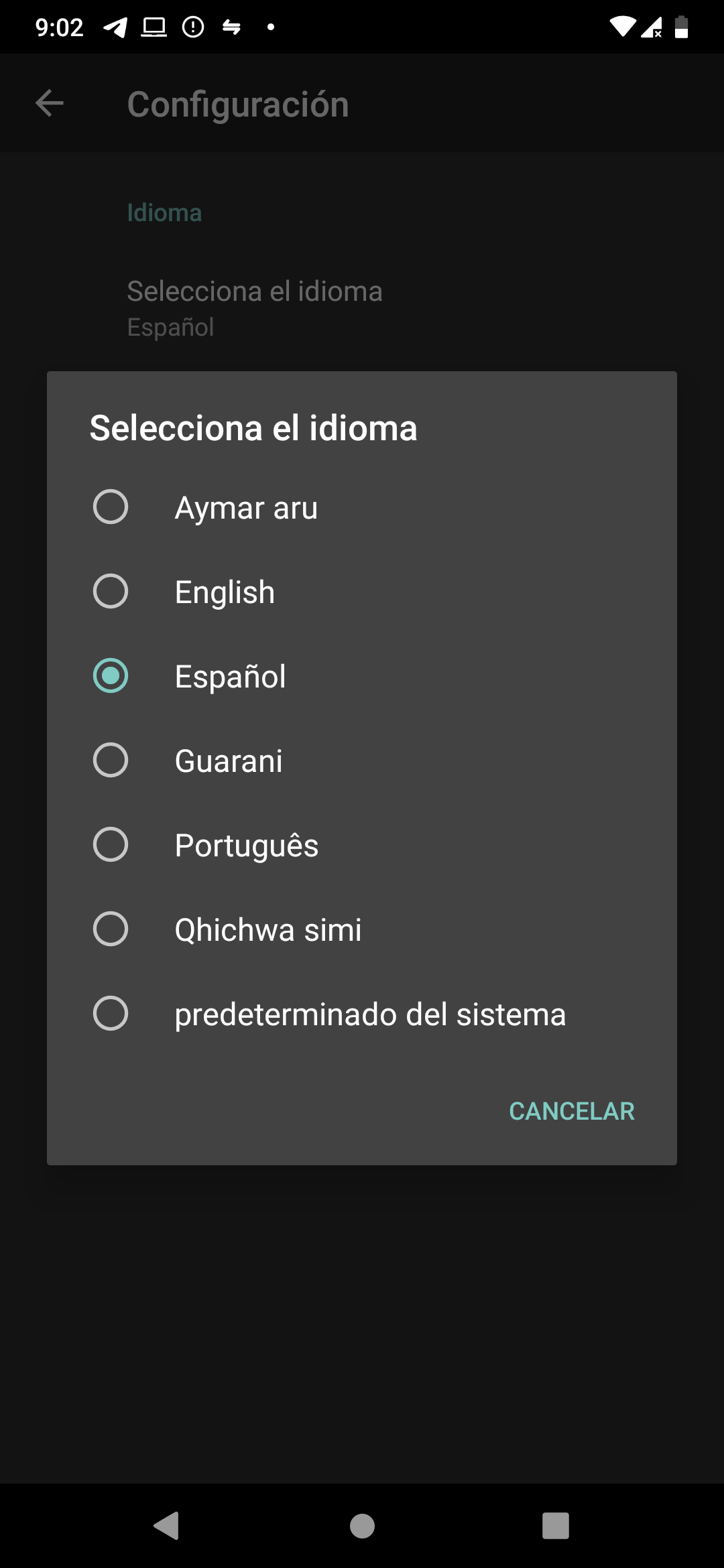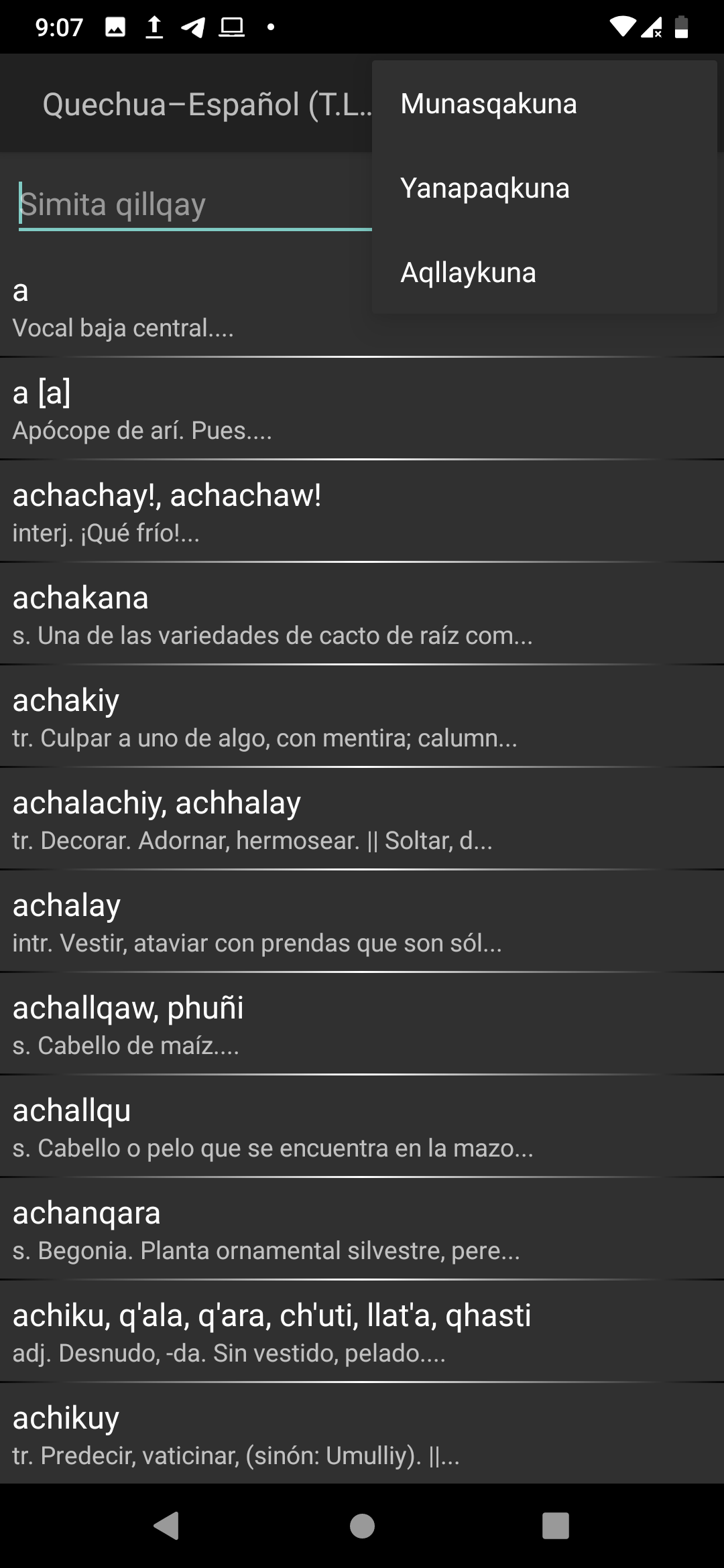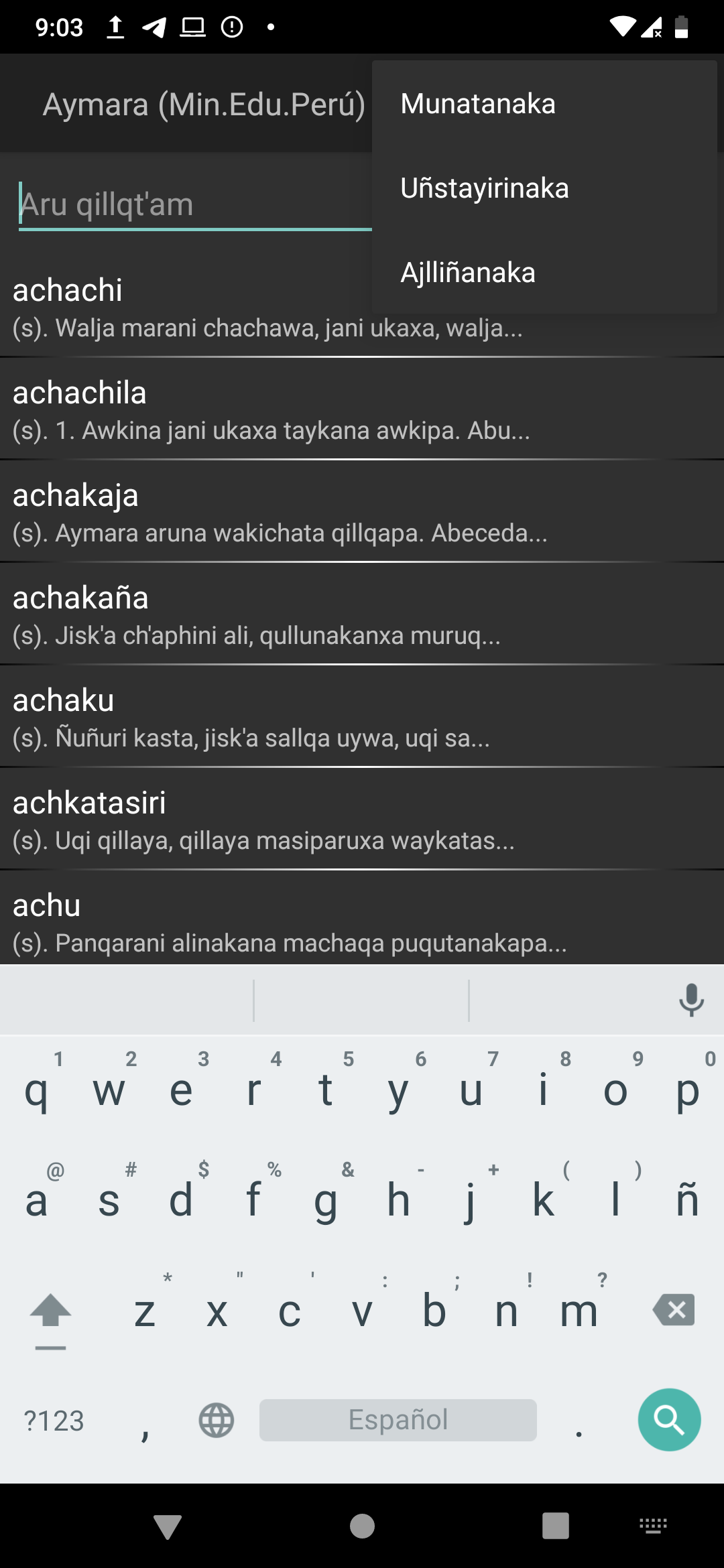 Actualmente NuSimi ofrece 29 diccionarios en 11 lenguas diferentes, que son aymara, guaraní, mapuche, mochó (de maya), mojeño ignaciano, mojeño trinitario, quechua (ancashino, ayacuchano, cuzqueño y boliviano), mosetén, movima, tsimane' (chimané) y uru. Esperamos que podamos ofrece la interfaz de NuSimi en todas las lenguas originarias. Por eso estamos invitándole traducir la interfaz de NuSimi en su lengua. También si Ud. conoce otros diccionarios de lenguas originarias que los autores quieran incluir en NuSimi, por favor contáctenos.
Es muy fácil traducir la interfaz de NuSimi, que sólo consiste de 55 frases. Si Ud. quiere traducir la interfaz, descargue la hoja de cálculo NuSimi-Traducciones.ods con las traducciones y agrega una columna adicional con su lengua. (Otra opción es traducir NuSimi-Traducciones.odt en un editor de texto.)
Las frases adentro de <!-- ... --> son comentarios para indicar la sección de la app donde aparecen las frases y no es necesario traducirlas. Cuando ha terminado de traducir, por favor manden el archivo a Amos Batto (email: amosbatto@yahoo.com, celular/Telegram/Whatsapp: +591-76585096) para incluirlo en la próxima versión de NuSimi.
---
Help us translate NuSimi to your language
In colaboration with Pedro Terán Genz of Hanansoft, we released a new electronic dictionary app called NuSimi to consult native language dictionaries in Android mobile devices. NuSimi is the new version of SimiDic, which was the original app that we released back in 2012. We have reprogrammed NuSimi in Kotlin and upgraded its search engine to be able to search inside words, which is very important for languages such as Guaraní and Mojeño (of the Arawak family) which have their roots in the middle of words.
NuSimi includes a new interface, which can be translated to other languages. We have already translated the NuSimi interface to Aymara and Bolivian Quechua, but we would like to offer NuSimi in more languages and dialects, because it is important that software works in native languages in order to demonstrate that these languages are useful in modern technology y can change negative perceptions that these languages don't have a future.
NuSimi with its interfaz in Bolivian Quechua, Aymara, Spanish, English and Portuguese: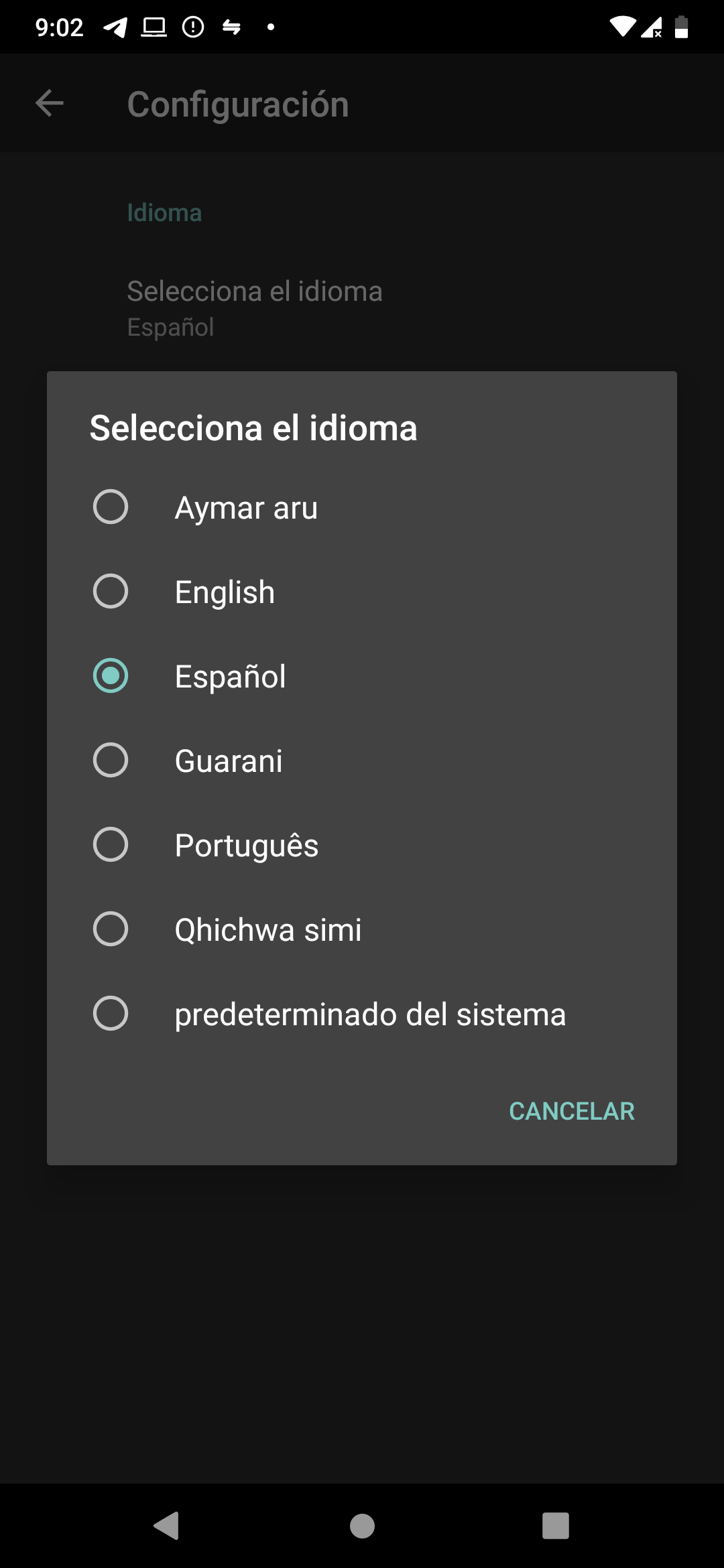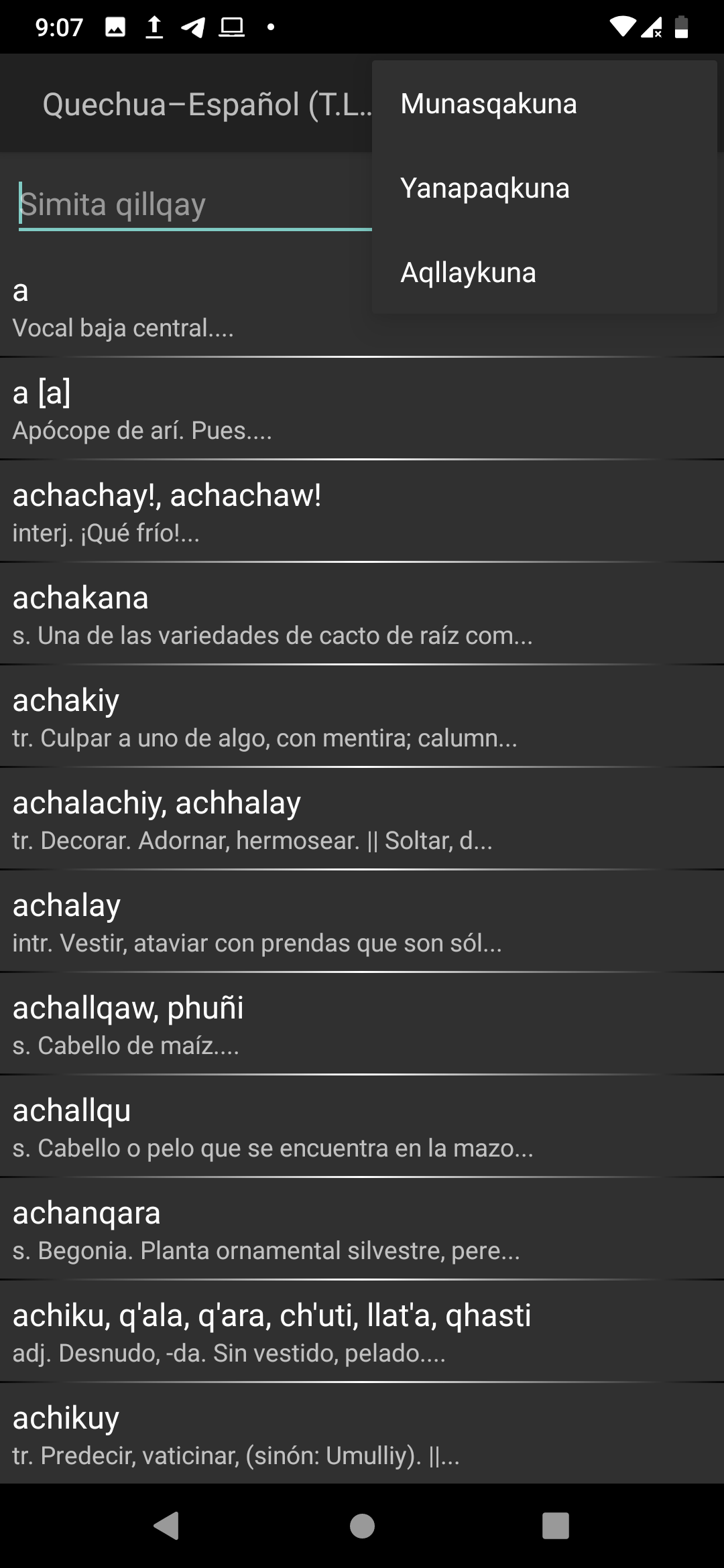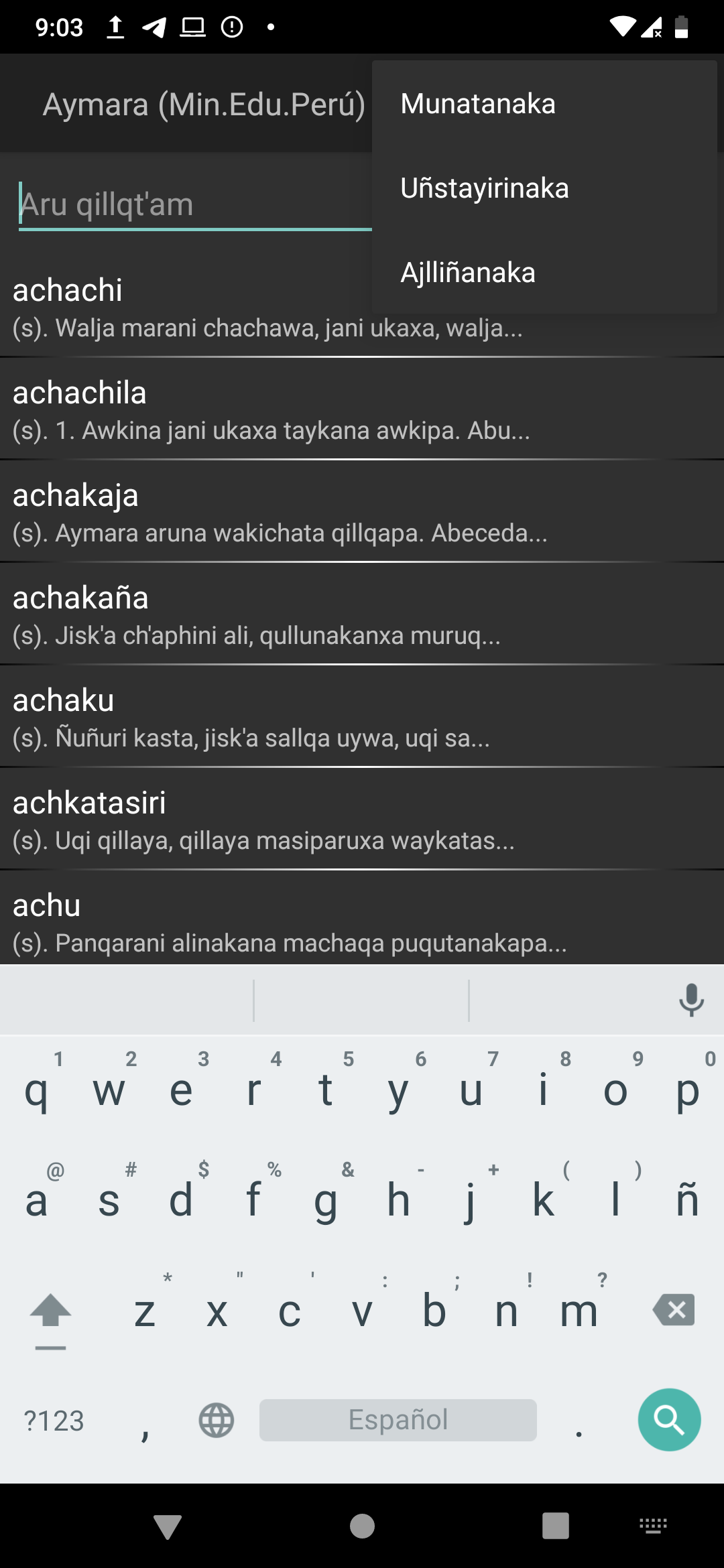 Currently NuSimi offers 29 dictionaries in 11 different languages, which are Aymara, Guaraní, Mapuche, Mochó (of Maya), Mojeño Ignaciano, Mojeño Trinitario, Quechua (Ancash, Ayacucho, Cuzco and Bolivia), Moseten, Movima, Tsimane' (Chimané) and Uru. We hope to be able to offer the NuSimi interface in every native language. For this reason, we are inviting you to translate the NuSimi interface in your lanugage. Also if you know of other native language dictionaries whose authors wish to be included in NuSimi, please contact us.
It is very easy to translate the NuSimi interface, which only consists of 55 phrases. If you want to translate the interface, download the NuSimi-Traducciones.ods spreadsheet with the translations and add an additional column with your language. (Alternatively, you can translate NuSimi-Traducciones.odt in a text editor.)
The phrases inside <!-- ... --> are comments to indicate the section of the app where the phrases appear and they do not need to be translated. When you have finished translating, please send the file to Amos Batto (email: amosbatto@yahoo.com, celular/Telegram/Whatsapp: +591-76585096) in order to include your translation in the next versión of NuSimi.
---
Ajude-nos a traduzir NuSimi para o seu idioma
Em colaboração com Pedro Terán Genz de Hanansoft, lançamos um novo dicionário eletrônico chamado NuSimi para consultar dicionários de línguas originários em dispositivos móveis Android. NuSimi é a nova versão de SimiDicque foi o aplicativo original que lançamos em 2012. Nós remarcamos NuSimi em Kotlin e melhoramos o seu motor de busca paPublicadora pesquisar toda a palavra, que é muito importante para línguas como Guaraní e Mojeño que tem suas raízes no meio das palavras.
NuSimi inclui uma nova interface, que pode ser traduzido para outros idiomas. Nós já traduzimos a interface NuSimi para Aymara e Quechua boliviano, mas queremos oferecer NuSimi em mais idiomas e dialetos, porque é muito importante que o software trabalhe em línguas nativas para mostrar que essas línguas são úteis na tecnologia moderna e para mudar percepções negativas que essas línguas não têm um futuro.
NuSimi com a interface em Quechua Boliviano, Aymara, Português, Espanhol e Inglés: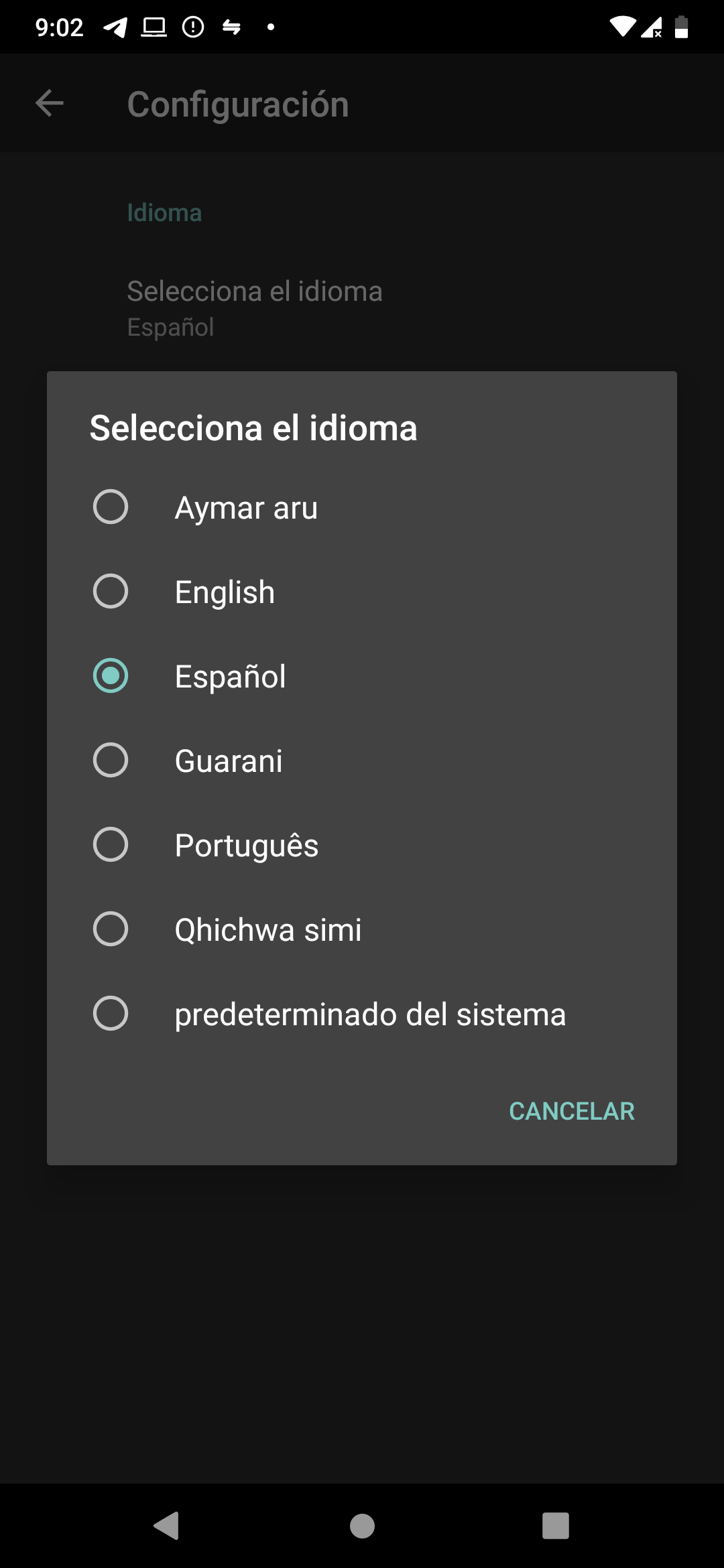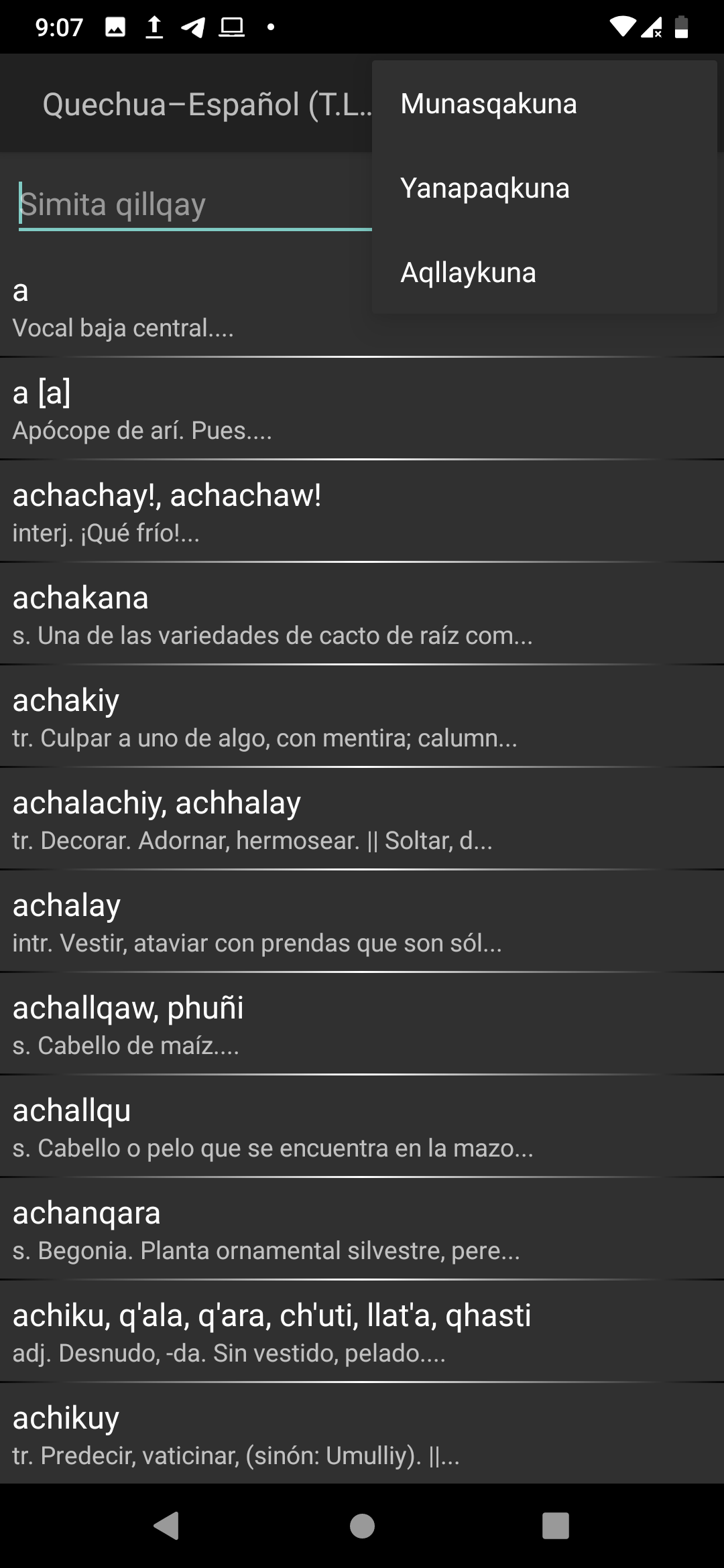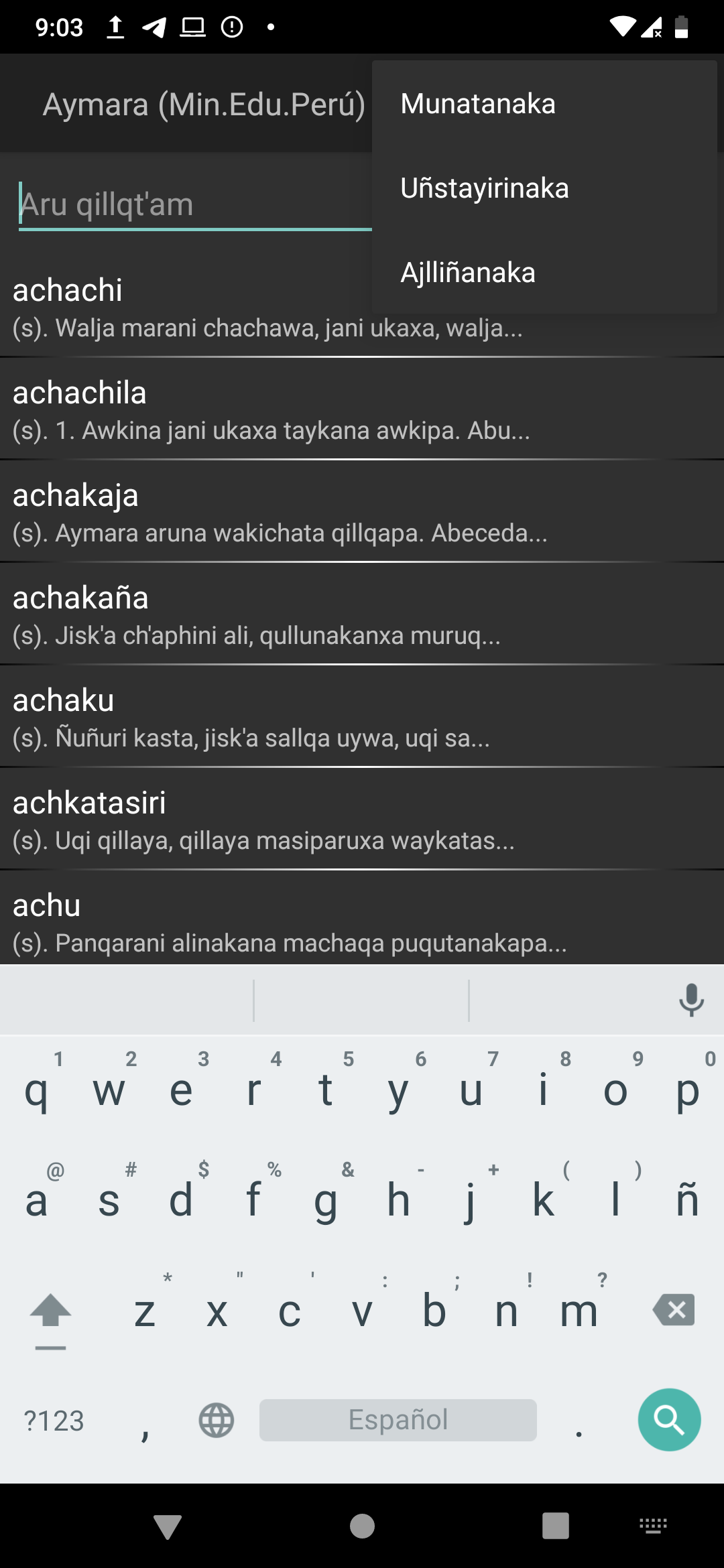 Atualmente NuSimi ofePublicadorece 29 dicionários em 11 línguas diferentes, que são Aymara, Guaraní, mapuche, mochó (de maio), Mojeño ignaciano, mojeño trinitario, quechua (ancashino, ayacuchano, cuzqueño y boliviano), mosetén, movima, tsimane' (chimané) e uru. Esperamos que possamos oferecer a interface NuSimi em todas as línguas nativas. É por isso que estamos convidando você a traduzir a interface NuSimi em seu idioma. Também se você conhece outros dicionários de línguas nativas que os autores querem incluir em NuSimi, por favor Entre em contato conosco.
É muito fácil traduzir a interface NuSimi, que consiste apenas em 55 frases. Se você quiser traduzir a interface, baixe a planilha NuSimi-Translation.ods com traduções e adiciona uma coluna adicional com sua língua. (Outra opcião é traduzir NuSimi-Traducciones.odt em um editor de texto.)
As frases dentro de <!-- ... --> são comentários para indicar a seção do aplicativo onde as frases aparecem e não é necessário traduzi-las. Quando você terminar de traduzir, envie o arquivo para Amos Batto (email: amosbatto@yahoo.com, cell/Telegram/Whatsapp: +591-76585096) para incluí-lo na próxima versão do NuSimi.